Do you like stories? Do you like music? What about a story within the music? Maestro Classics does just this! We were given the chance to listen to Mike Mulligan and His Steam Shovel and The Sorcerer's Apprentice. Both of these CDs were delightful to listen to!
Maestro Classics is beautiful classical music for children! Their Stories in Music are recordings with a narrator telling you the story and a symphony orchestra to introduce this music to your children. There are three major goals to these CDs. They are to expand the listening horizons, develop listening skills and accumulate musical memories, and to encourage adults and children to listen to music together.
We have always loved listening to music in our house. And stories are a daily part of the household. When you combine the two, it is the best of both worlds! Each of these CDs sells for $16.98 or you can purchase the MP3 download for $9.98. They each come with a cute little activity booklet that goes along with the music.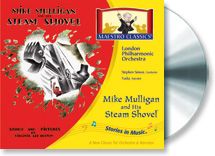 Mike Mulligan and His Steam Shovel is recommended for ages 4+. We have previously read this story, and watched the video on it. When the kids heard the beginning of the music, they were excited. They knew right away what adventure we were headed on. What we didn't know, was how beautiful this story and the music were put together. Add in the fun activity booklet and the sing along song, and we were having so much fun by the time lunch was over!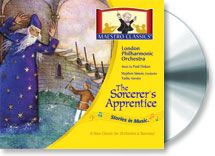 The Sorcerer's Apprentice is recommended for ages 6+. This is a remastered edition of the classic. This remastered edition includes a narration on the music. It was so much fun to have someone help paint the picture of the lazy apprentice and his antics with the brooms and water! Not only do you get to listen to this music, but the activity booklet includes things like crossword puzzles, dot to dots and a fun kitchen percussion to add some fun to the "learning" if you call it that 🙂
We have loved these CDs beyond what words could explain. When I was growing up, I would watch Peter and the Wolf. I loved the music and it the movie made me learn how to picture the story of music in my head. I will always remember that music and I wanted something like that for my kids to grow up with. Classical music is so much more than music and having this chance was just want I wanted.
We started each CD during our lunch. Listening to the story and the music. After that we continued and listened to the extras on each CD. By the time we were done eating and cleaning up (40-50 minutes) we were able to move over to the activity book for each CD. We would work on the fun crosswords, or dot to dots and we would read up on the different instruments. Each booklet also included some sheet music of the song and we started learning the notes. Adding in the fun activities like the kitchen percussion, or the Mike Mulligan Sing Along and you have a music course for the week! So simple and yet so fun!
I loved being able to give my children the chance to learn to love the classical music like I did. They enjoyed listening to something other than me eating while reading…and they enjoyed the music. Classical music seems to calm them, add in some learning and they had an awesome afternoon, as did I! This music brought back wonderful memories for me and I hope that this will do the same thing for my kids!
Maestro Classics can be found on Facebook, Twitter, and Pinterest. Now, I told you about two of the CDs, but there are more than that and these ladies here can tell you about them! Click below and enjoy!