What do you do when it comes to art class and you are not an artistic person? Well, for me, you look for an easy to teach program that will allow your children to learn to enjoy art. ARTistic Pursuits does just that for our house!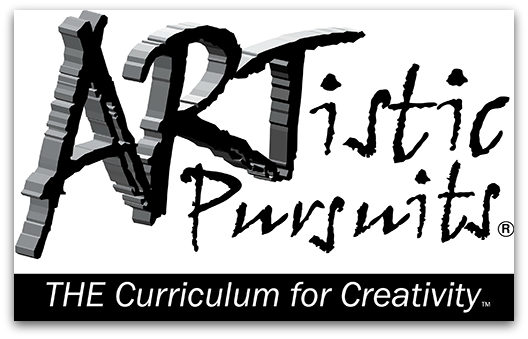 Ray Ray was excited to have the chance to use Early Elementary K-3, Book 1: Introduction to the Visual Arts. He has always loved to do art and I have always struggled to teach him without showing my dis-interest in it.
Early Elementary Book 1 is a spiral bound soft cover book of over 90 pages. There are 36 lessons, each with a project. There are 4 groups of lessons; Drawings, Painting, Paper Art and Clay. All the required materials needed to complete the lessons are easy to obtain from the local stores, or from the ARTistic Pursuits website.
Each lesson begins with a learning section. You get the chance to learn the basics of art with your child on a level they are able to understand, and written with easy to understand words. You will be learning various things from the fact that artists use their imagination to paying attention to the small details when they look at things, how to use lines and how to use curves. There are many topics that are brought up one by one. While each lesson is numbered, there is no need to follow that order if you don't want to. We personally jumped around and just marked which ones had been done after they were done.
After your topic of the lesson, you get to look at real art, whether it is a painting, picture or sculpture. Whatever medium you are learning about, you get to see also. You have guided learning to go with that art medium. After talking about it, there are guided questions to go with it. These are simple questions that make your child think about what they learned. You are able to see how well they were listening to you and re-enforce what you want them to learn.
Once you are done teaching…it is play time! This is where you take what you learn and have fun! There is the review, the materials needed for this specific project and what to do. There is also notes listed if they are needed for each project. There is also a student gallery of each project. This helps us, and the kids to see the level they are working at and to not worry if they don't always turn out the same.
Ray Ray and Little Miss have both fallen in love with this book. Every time they see me pull out the book they get excited about what art they get to do next! We worked on 1-2 lessons each week, picking and choosing between lessons. While this is listed for grades K-3, Little Miss, at 3 years old, had no problem joining in with Ray Ray for the lessons. And while he won't admit it, Moe Man at 14 loved the lessons and projects as well! While we used 1-2 lessons per week, if you wanted to use this for a full year, you could use one lesson a week and spread those lessons out over 2-3 days. The lessons are set up so that you can easily do that and not lose out on anything. However, once you start a lesson, you will be having a lot of fun and might not want to actually stop where you said you were going to!
So you don't have a child in grades K-3? No problem! ARTistic Pursuits has MANY other programs for all the grades! Check those reviews out by clicking below! You will be able to find something for your needs.