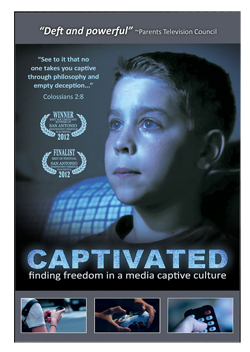 How many TVs do you have in your house? More than the amount of people? More than the amount of toilets? These are two statistics, that we have more TVs than people or toilets now in our houses! Media Talk 101 ~ (CaptivatedTheMovie.com) has come out with a documentary, Captivated DVD, that puts the media into perceptive for anyone who plays games or watches TV.
The Captivated DVD is $16.95 and has free shipping. It is approved for all ages, but made for adults. The running length of this DVD is 107 minutes long. They have a group study guide if you want, but this DVD is eye opening enough in itself for any household in America or even the world.
This is not a curriculum of any kind, it is a documentary to help inform you of some statistics that you may not have known. I have sat down and watched this video, a number of times now. I keep finding new things that I didn't hear the first time. After watching the video, I sat back and watched my kids…and myself. I didn't realize how much we were addicted to our media, our TV, computers, tablets, phones and video games. I couldn't believe how much all of us were staring at a screen of some kind. I was actually sad…
I took this video and the statistics that they were telling us, comparing the addiction to media 1:1 with a gambling addiction. Or how about the fact that media is a bigger addiction than drugs! I took these thoughts and changed they way we started living our days. No, I haven't taken all media out…we homeschool and love to "Google" things. Movies are good learning tools, when they are positive and not full of violence. Nonsense games have been put on a hold…and no, it has not been easy. We want to work on finding the real joy in life. We want the freedom that comes with being away from screens. We want to hear God's voice instead of listening to all the noise and distractions that come with the media.
Media took off from the simple invention of the telegraph in 1844…once we found out that we could have more, we wanted more. I use and love media. I didn't think about how much I used media to "help" me. But I do, I use it every day. But I am now cutting back on it. I use the time after kids are in bed to work on my writing for this blog. I don't want my kids to see me sitting at the computer all day. Some days I may need to sit down and do something…but I love that I can just shut the laptop when my kids need me. I love knowing that I am showing my kids what is more important to me, which is them instead of the computer.
(Pulling out games and finding good books when they are bored is something I love to see now.)
I loved this video, as much as I don't care for documentaries, I really did love this one. I have learned from this. I have had my eyes opened from this video. I have used this information to take a look at what our house is like and how "free" we really are. I have started making changes, simple little changes that the kids don't really seem to notice, but I notice good things from them. Simple changes like saying no to using the tablet. Yes, my children get upset and yell, but when I sit down and start reading a book out loud, they come running and sit down and listen. I am taking something away and giving them something different to be "captivated" by at the same time.
I can not say one bad thing about Captivated DVD, other than I know that not everyone has seen it yet! I recommend that everyone get themselves a copy of this and just sit down and watch it. Take your "media" time to watch something eye opening instead of something full of junk.
Please take some time and stop by and visit Media Talk 101, find them on Facebook and Twitter and really do think about ordering yourself a Captivated DVD so that you can find the freedom and voice of God.
Don't believe what I have to say? Want to hear more? Check out these other wonderful reviews!