Painting, oh the joys. The colorful fun, arty joys of painting! But what about the mess? How do you deal with the mess of multiple kids painting and having fun? What if I told you there was a way to paint without the mess? Well, there is! The Pencil Grip, Inc has this fantastic product, Kwik Stix, and we got to have fun with the 12 pack.
You may know The Pencil Grip, Inc. from one of their other products, can you guess it? The pencil grip! When we got our box of Kwik Stix, we were delighted to find one of the original The Pencil Grips in there. This grip has been so much fun for us to use. Everyone has tried it in the house, and we all love the comfort of these grips! If you or your kids need help holding your pens or pencils, these are the ticket!
The Kwik Stix are a solid Tempra Paint stick that allows your child to paint, yet not make a mess. They can paint, *gasp* without your supervision, err, help setting it all up. That is right, even Little Miss is able to pull out this "paint" and use it like she would her markers or crayons. All she needs to do it uncap, twist and paint!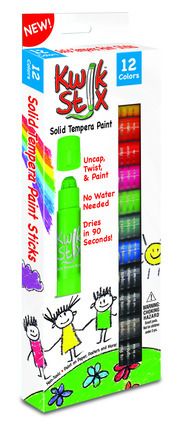 Counter space is limited in this house. Especially if you have more than one child in the process of making art at the same time. How oh how will I let this all dry? There are no worries about drying with Kwik Stix! With the super-fast drying formula, the paintings will be dry within 90 seconds. Yes, I said 90 seconds!! That means, my counters can be saved for other things, like food!
So, how did we use these fun things? Um…well, we painted and colored and hung up our creations! Mom was happy, and not stressed out over having paint available. First, we just did what we wanted to do. Whatever sounded good, and we called it art class!
After the "fun" was broke in, we I decided that it would be fun to use these in our actual lessons! While we didn't have much that needed art, we found different things to paint. Ray Ray painted a picture of one of the characters from the books he is reading. Little Miss, she is just busy painting anything she can!
We love using our waterless, messless, and super fun Kwik Stix! These truly are the paint stick with super-fast dry time. I am not worried about water cups being spilled or finding a spot for the art to dry, I am just enjoying my children having fun with art!


If you are in need of some super-fun, easy to use, easy to clean up paint, you will want to check out these miracles in a stick! Don't just take my word for it, check out the reviews from the other crew families!


Once you are done checking out the reviews, stop by and show some social media love!
Website: http://www.thepencilgrip.com
Facebook: https://www.facebook.com/thepencilgrip
Pinterest: https://www.pinterest.com/KwikStixPaint/
Twitter: https://twitter.com/ThePencilGrip