Curiosity killed the cat…but what child is not curious? If your children are curious, why not feed off of that and let them learn while they can. Let them lead you in the direction of the fun they want to have. Curiosity Quest is the best way to help with that!
As a part of this review, we were given a copy of the DVD Combo Pack – Produce and the DVD Combo Pack – Swimmers of the Sea. Each of these DVDs sell for $24.95 and include three episodes on each one.
These DVDs are not a curriculum. They are just a fun way to work with your child's natural curiosity. There are no quizzes or worksheets…although you can add in notebooking pages or unit studies if you would like. They are recommended for ages 7-14, but I can tell you that Little Miss (2) and Ray Ray (5 1/2) loved them more than Moe Man (13).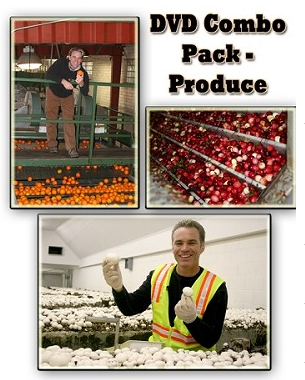 The DVD Combo Pack – Produce has three episodes on it. The episodes include Cranberries, Mushrooms and Oranges. We love to eat mushrooms (Ray Ray HAS to have them with his steaks) and oranges in this house, and cranberries are always on our radar every since we learned about them at Thanksgiving. Joel has enough enthusiasm to grab anybody's attention and add in the funny things that happen? Yeah, the kids loved this DVD! We were able to learn about the growing and harvesting of these produce items. As much as we enjoyed these episodes, we are going to enjoy them again in the fall when we really focus on harvesting crops with our gardening unit.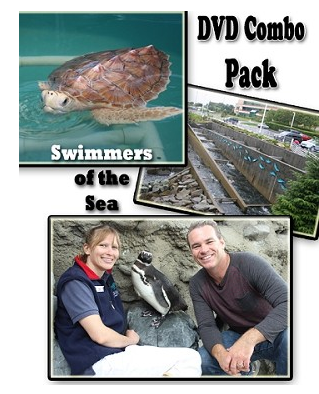 Of the two DVDs, the DVD Combo Pack – Swimmers of the Sea was the favorite of the two at our house. We have watched this DVD so many times I have officially lost count! This DVD Combo Pack includes Salmon, Penguins and Sea Turtles. There was actually a fight over which episode we would be watching first, Ray Ray won with Sea Turtles 🙂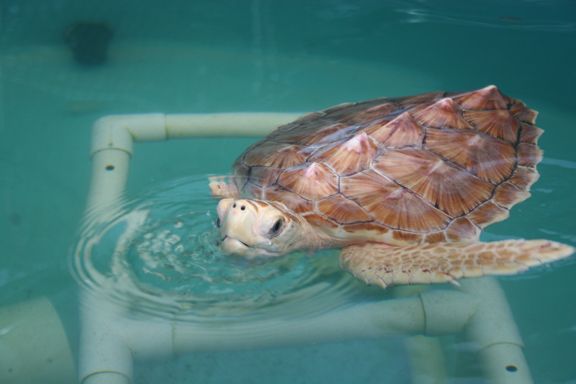 Ray Ray had to of course grab every turtle in the house and set them up while watching about turtles. Every few minutes I would get the "Wow, did you know…" comments from him, but other than that, he was loving the video. As much as Little Miss did not want to watch this episode, I witnessed her being a little more happy about it as she was brought in with Joel's great attitude and the fun questions from the kids.
Little Miss wanted to watch the Peguins episode. After our Sea Turtles we were happy to watch this one with her. We had fun learning about why the peguin doesn't fly and how many feathers they have.
Our use of these DVDs were very easy…when the kids were bored, or I needed some one on one time with one of the kids, we popped in a DVD. We got these DVDs during a time when we couldn't run outside to play, and mommy was getting sick of the boring TV shows and didn't want them anymore. These DVDs were a great life saver that grabbed the attention of the kids and helped them learn through their own curiosity.
There is no right or wrong way to use these DVDs and that is nice. All you need to do is have fun! They now have a spot on the movie shelf and the kids will pick them out on their own.
The episodes are all unscripted…some viewers have sent in questions to go with the topics, but that is the most of it. Joel takes the kids (and adults) into a fun and educational view of the different topics. Joel takes us on location in each episode to make sure that all the questions of the curious viewers are answered on the current quest.
My Honest Opinion
We loved watching Joel and all the fun that he brought into our house. We love the Fun Facts that were given to us, and we loved how these DVDs were geared to grab our attention and make us learn and laugh with them! I loved that my kids pick these off the shelves themselves now that they have seen them once. I love knowing I won't have to worry about what the kids are watching when I need to be busy. I can see us using these videos with upcoming unit studies. This makes them that much more valuable to us. Do I have any complaints? Not really…with how interested my kids were and how much they seemed to take in, and continue to take in, these are a good addition to our video shelf (heck, learning vs cartoons…yep I know what DVD I would buy first!).
Curiosity Quest is on Facebook, Twitter and YouTube. Please stop by and show them some love! And don't forget to click below to see what other bloggers have to say about these DVDs!