Heirloom Audio Productions has done it again with The Dragon and The Raven. They have made another fabulous Christian audio drama for the whole family to enjoy together!


Heirloom Audio Productions has produced audio dramas before, and The Dragon and The Raven is no different from these. This audio drama is full of adventure, faith and suspense! This takes one of G.A. Henty's stories and turns it into real life. You are traveling with Edmund as he is fleeing the Danes, yet looking to God for the help that is needed.
The Dragon and The Raven is a 2 disk set that will give you over 2 hours of enjoyment. Not only that, but with the Single Package, you get the 2 disks, a 48 page eStudy Guide, a beautiful printable copy of Proverbs 21:31 and the MP3 soundtrack download.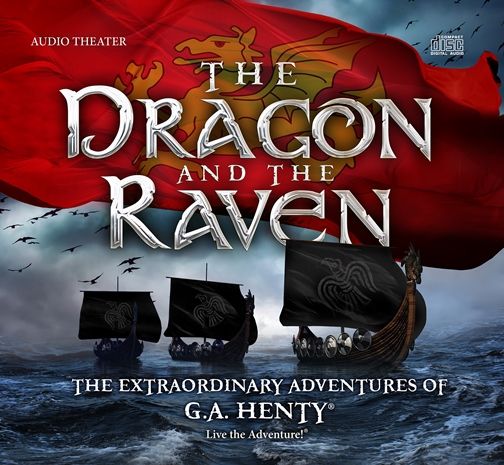 The eStudy Guide is a great way to take this audio drama to the next level and use it as a unit study. You are able to study vocabulary that has been used in the story as well as answer questions to make sure your kids are listening, however, once they hear this, I doubt they will lose interest.
We have been in love with Heirloom Audio Productions from the first time we heard one of their audio dramas. These fun stories are brought to life by the wonderful actors and actresses who play the different roles in the story. John Ryhs-Davies, Helen George, Brian Blessed to name a few of the characters we get to hear this time. They spare no expense with the sound effects either. You can close your eyes and see this story happening in front of you.
We love to have a story time in the house, a time when we try to sit quiet and listen to mom read to us. But sometimes mom gets busy, sometimes there are not enough hands or eyes that could make the day happen. Those days, it is nice to start listening to someone else read for mom. But to have a TV show made into an audio book, that is a great way to let mom take a break. We would sit down after lunch, when we have our quiet time, and listen to the story. We would usually listen to ½ an hour of story at a time. However, the kids, as well as mom and dad, were always anxious to pause the story and wait until the next day. We might have listened to a bit more on some days.
Each day after we were done listening, we would sit down and go over the vocabulary. We would also check the questions and see who was listening, which usually was everyone. The kids would ask other questions as well, checking to see if they could stump the others. This made listening to this story extra fun!
If you are looking for a family audio drama the brings out the faith in a situation, you should check out The Dragon and The Raven. This audio theater style story will make you think you are watching TV without the TV. You and your family will enjoy high quality entertainment that requires you to use your imagination.

Have you listened to any good Heirloom Audio Productions stories lately? Which one was that?
Blessings!
Amanda