Field trips, the best part of the public school child's year. Field trips, a normal part of the homeschool child's week. Apologia Educational Ministries understands the need and love for field trips and has come out with the Exploring Creation Field Trip Journal.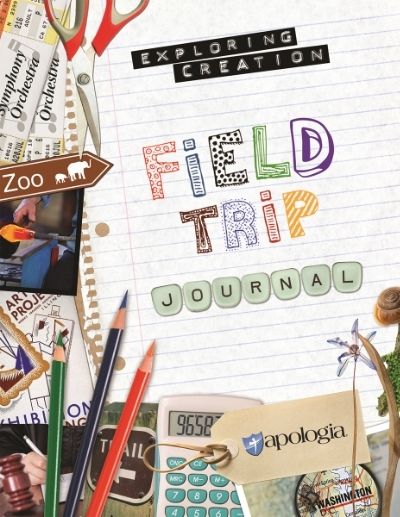 The Exploring Creation Field Trip Journal is a wonderful addition to all field trips! This takes your normal learning experience to a whole new level! Apologia is always making wonderful products and this is no exception to their standards!

When you purchase the Exploring Creation Field Trip Journal, you are getting 64 pages of heavy cardstock pages with full color on the pages. There is no cutting costs when it comes to this product. All the pages are spiral bound and durable enough to withstand any field trip you throw at it!
Your field trip journal starts out with helping you to prepare for your best field trip ever! This guide goes from the week before, the night before, on the way and at the actual field trip. There are tips for not only the teacher, but the student as well.
But you can't prepare for a field trip unless you know where you are going. Apologia has two pages full of ideas and list them out according to the subject matter they relate the most too. Don't have a way to actually get out and about? That is just fine! Apologia offers a special extra with each of their books that you order from them. This time, the special code listed on page 6 will give you access to additional materials, including many virtual field trips that you can take without leaving home!
When you are a homeschooler, field trips are a wonderful way to bring learning alive! But as you learn, you need to keep track. Your child will have 6 pages to list their previous travels, within their state, country and within the world!
Once you move further into the journal, you will find "How to" pages before the sections you move into. These pages will help give you an overview of what your child will need to do, and what they will be able to learn from these pages. The writing is limited and easy to scan over.
Now that you know what to do, you are able to let your child fill in the pages. These pages are not just fill in the blank pages. Your child will be doing writing, drawing, mapping and time. This is just one section of the whole thing! Your child will also learn about seasons as they journal about their special spot.
The journal will have your child looking at their special spot in a whole new light. They will pay attention to new things like the temperature and rainfall during each season (science lessons anyone?). And once again, your child will work on mapping out their spot and learning about how to draw everything to size.
Finally, after you travel and go to the comfort of your special spot, your child is going to think about it as they see it. Here, your child is able to do as they please and document things "as they see it". There is no right or wrong, just have fun and learn!
We took advantage of the Field Trip Journal on a wedding weekend away. When your family plans a location wedding and you homeschool, you find a field trip within your trip! We had fun in Northern Minnesota and brought our Journal to Gooseberry Falls.
I personally loved how this journal touched on many different subjects, while still being fun for my kids. I loved how beautiful the pages are laid out, and how colorful they are. We love our field trips, and now we can be more intentional about our learning while we are on them and when we get back.
All of my kids were fighting over who got to use this journal. This is one of those everyone wants it because it is so "cool". They loved the eye catching designs and colors. Moe Man loved how thick the pages were. "Hey, I won't rip these out like a normal notebook when I am writing!" And this is a must in our books if they are going to be taken out and about with us.
Overall, we loved everything about our journal. There is not a thing, other than not having enough in the house, that we found wrong with our journal. Thank you to Apologia for another wonderful product!
What do you use during your field trips to make sure your children are learning while they are playing?