How do you find a way to challenge your child's mind while reading? Do you have a program that you have found that works with high quality books to make your children more active readers and push them past their comfort zone? Ray Ray has been pushed and is excelling with Memoria Press and More StoryTime Treasures Student Guide and Answer Key as a literature guide.
Memoria Press is a family-run company who wanted to make simple, easy to use classical Christian educational materials that were available to schools and homes. We had the chance to take a look at their More StoryTime Treasures literature guide. This set is recommended for first grade and up, and was perfect for Ray Ray.
While Ray Ray is a superb reader, he needed something to help him slow down and build on his reading skills in new ways. This guide did just that for him! While the books were very easy for him to read, the work that came with, made him slow down and become more active in his reading. Focusing more on the vocabulary, spelling, comprehension, and composition skills.
Included with the More StoryTime Treasures set is the student guide and teacher's answer key. The books were not included, but there is an option to purchase them. I was able to easily find all 7 books within my library and their branches. These are seven classics that we have previously read within our previous lessons and it was super nice to go back to them in a new way!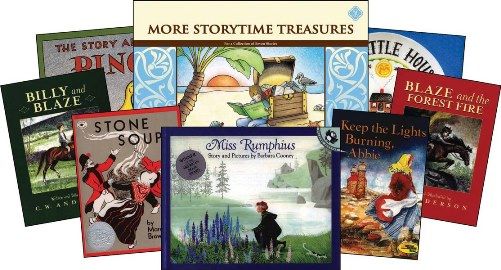 The seven books you will be reading with More StoryTime Treasures are:
Billy and Blaze

Blaze and the Forest Fire

The Story About Ping

Keep the Lights Burning, Abbie

Stone Soup

The Little House

Miss Rumphius
There are no real "rules" on how to use this program, other than making sure you read the books before and during working on the worksheets. This is super nice when you have a kid who likes to pick and choose what books he wants to read. I was able to let Ray Ray pick which book he wanted to read next. This made him more workable with me and we had less of a struggle.
The answer key that comes with this program is for this and for StoryTime Treasures. It is nice knowing that if you start this right away with StoryTime Treasures, you can save a little money and not purchase a second answer key when you start More StoryTime Treasures. I love how simple this answer key works. You simply have the answers, nothing more, nothing less. This makes it quick and easy to read. The only thing I didn't like was that the student guide and answer key did not put the same books in the same order. This is not a deal breaker for me, but it was confusing the first few times I grabbed it to help me find an answer, even daddy was confused when he hoped in to help with Ray Ray's school one day.
We used this daily in our homeschool lessons. The first day of each book was simply reading the book all the way through. Each day after that we would do one or two pages from the lessons. Each page of the lessons would let us know a range of pages from the book that we would find our answers.
This was a great program to add some great new learning into reading a simple book. Each book comes with many different areas to learn about, but they each have a word study, word definition, comprehension questions (fill-in-the-Blank), language lesson and finally a just for fun section. Each book has 2-3 lessons, each with the above components. We were able to work about a lesson a week, depending on how fast we did or didn't work.
I really enjoyed using this program with Ray Ray. He enjoyed pulling it out and using it on his own, or telling me what needed to be done. More StoryTime Treasures really took some of our favorite books and helped us learn new things, not just about the books, but about the language arts as well. This was a very fun guide and we are excited to finish the last 3 books!
Memoria Press has numerous different literature guides available for different ages and grade levels. I am going to head over and check out some of the other reviews of these guides, will you join me?