Music, such a wonderful way to play with your emotions. Why not have a way to teach this magic that is great for multi age groups and a variety of learners. If you are looking for this kind of music lesson, look no further than Zeezok Publishing LLC and their Music Appreciation Book 1: for the Elementary Grades.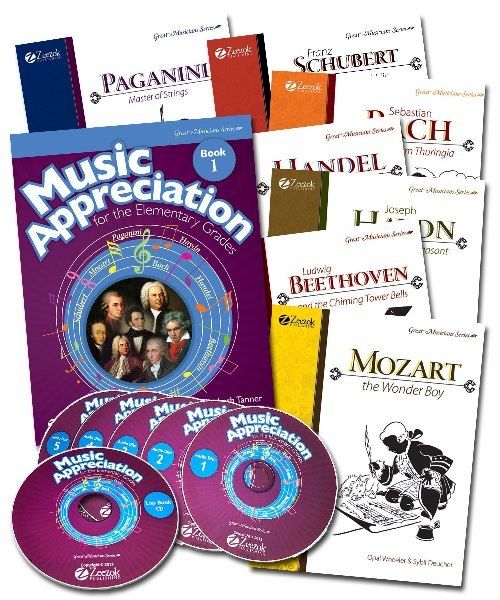 Zeezok Publishing LLC has taken 7 of the great composers and put them in this first book of their Music Appreciation Set. Within this first book, you and your child will about Bach, Handel, Hayden, Mozart, Beethoven, Paganini and Schubert. And you will learn about them in a fun and interactive way!
We decided to start with Bach, one of my personal favorites. And it turns out that Ray Ray fell in love with Bach just as much as I did while using this program. And with using something as simple and fun as this, who wouldn't fall in love with these composers?
The nice thing about Music Appreciation, you can pick and choose the order you want to go in when learning about these composers. Let your child take a look at the living books, talk a little about each and let them be in charge for once. Trust me, they love this, and they will learn a little better this way!
Once your child decides who they want to learn about, you just need to open the book and check out your lesson outline for the next four weeks. This outline will tell you what to complete each week, how you complete it, that is up to you and your child! This makes it easy for your child to take control once again. I showed Ray Ray the list, I told him that we could spread it out, or cram it in. After the first week of "cramming" it in, he decided to spread it out the rest of the time!
Each week is going to include multiple learning adventures. If you are worried, they mark which of these activities are required for the national standards. Each of these multiple activities reach your child at a different level of learning and fun. No matter your child's learning style, there is sure to be an activity that will reach them!
Every week will include a required reading, comprehension questions, character qualities, tidbits of interest, lapbook activities and most weeks include music to listen to from that composer. There are other activities as well, but this is the general idea. And with this alone, you can already see how much fun is going to be had! Ray Ray LOVED the music, in fact, I ended up letting him just listen to the music and enjoy it on his own time.
The reading that you will do each week comes from a living history book. This is a fun to read (not at all like a textbook) book to read with your children. The words are not too huge, and your children will be able to do a lot of the reading with you. The comprehension questions cover the reading for that week. While you have the option to write the answer, we would also use this as a time to have Ray Ray verbally answer and recite to me what he remembered from the reading.
The hands on activities for the lapbook were a hit with us. We were able to use these to play games (shh don't tell him they were for review) and do experiments (don't worry mom, you have the supplies at home already!). This was a great way for us to show off what we were learning to the rest of the family.
We love using our Music Appreciation in our school day. It is a fun way to learn about the classical music and the composers behind it. There is no boring learning and just fun. There is no tedious work, just fun. This is sure to be a hit with us for a while! And we can't wait for Book 2 to make its appearance!!
Don't take our word for it, well you should but in case you don't, head on over and check out these other reviews from other crew families!