When we started our homeschooling journey, Moe Man had his spelling under control. However, I was a tad worried about our homeschool spelling study with Ray Ray. Spelling You See has been my life saver!
We we received a copy of the Spelling You See: Jack and Jill (Level B) for Ray Ray to try and the Instructor Guide for me to use.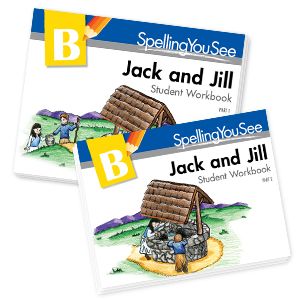 With the student books, you get two workbooks, A Guide to Handwriting sheet and erasable colored pencils for $30. The workbooks are broken down into 36 weekly lessons. Each one of these weekly lessons are than broken down into sections A through E (5, one for each day of the week). Spelling You See: Jack and Jill (Level B) is nursery rhyme based. Each week we get to work on a new nursery rhyme. Book 1 has the kids copy the a selected passage of the nursery rhyme and than we get to work on filling in letter boxes. Book 2 has the kids looking for vowel and consonant patterns within the nursery rhymes.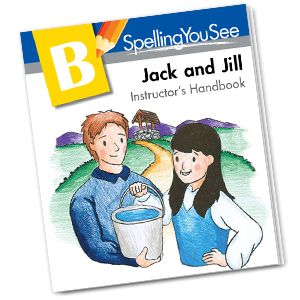 The Instructor's Guide ($16), provides you the parent/teacher with a beautiful "getting started" guide. This guide gives you an overview of the 36 lessons, information on those lessons, skills and concepts learned plus much, much more! I could not (and would not recommend) using this program without the instructors' guide!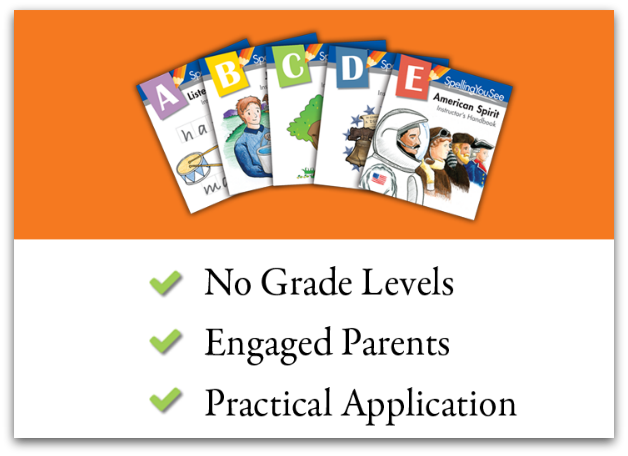 There are no "ages" or "grades" to pick from this program. They have different levels that will match your child's stage in the 5 developmental stages of spelling. We did use the Spelling You See: Jack and Jill (Level B) with Ray Ray while he was 5, and it seemed to click with him very well. It is best to read more about the different levels and stages, as well as reading some of the FAQs that are listed on the site before you just pick a level for your child. Even though you may have a 5 year old at home, they may be at a different level, higher or lower, than where Ray Ray is at right now. And this is normal!
We used this program as part of our daily school lessons. Ray Ray was a little disappointed to start this, but soon started asking if it was time for spelling yet. I would start by reading the nursery rhyme of the day and than Ray Ray would read it after me. He would than work on copying a part of that nursery rhyme down. It would only be a line or two, but it was enough for him. After the nursery rhyme, we would move over to the next page. This page would have us working on the sounds of letters and writing them down. After the letters and their sounds, we would work on simple three letter words with short vowel sounds. Not only did this help Ray Ray with his spelling, I noticed he enjoyed reading more! Each day had us doing something different in the beginning phrase, from underlining rhyming words to finding capitals and punctuation. There are no spelling lists, as this program using the idea of seeing the words written correctly and copying that.
Ray Ray's thoughts on the program were very to the point. He loved reading the nursery rhymes, and saying and writing the words on his own. When I asked him if he would change anything "No, nothing really". And I had to have that 'no' in there as he watches me right this now 🙂
My thoughts on the program, very easy to use! That was a fear of mine. There is really no way to screw this up! It is an open the book and go program. Once you read your instructor's guide you will be set for the lesson that day! A simple 10 minute (depending on your child's mood that day) lesson and spelling is in their head for the day! I loved that they used the nursery rhymes at this stage and how much fun Ray Ray had with this every day! Would I change anything? Not at this point. I really couldn't think of anything to change at all.
Make sure you check out Spelling You See on Facebook and Twitter!
Since there are 5 different levels, and I couldn't review them all, make sure you hop on over and check out what these other reviewers had to say!