Multiplication, that word strikes fear into the older child of this house. That fear leads to frustration which leads to a very hard time with math. But what if there was a fun way to practice this part of math? What if you could learn how to master your multiplication AND division while playing a card game?
Let me introduce you to Sunya Publishing and Sunya – The Magic and Wonder of Math and Science Multiplying & Dividing. This one card game is the night and day difference for Moe Man and his time spent practicing his multiplication and division skills.
What Is Included
Included in the set we received for this review was:
Teacher/Parent Guidebook

60 Sunya Multiplying and Dividing number cards (including wild cards and operation cards)

30 Sunya Multiplying and Dividing fact and riddle cards

Sunya Multiplying and Dividing number line card
How Do You Use This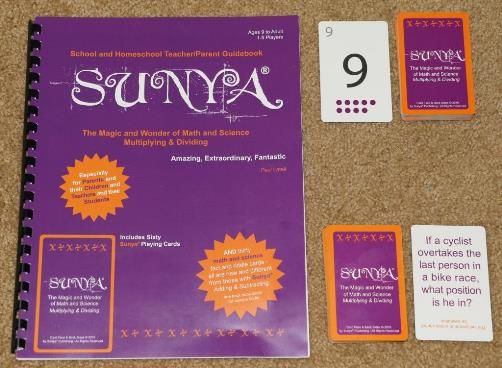 This is a game of making number sentences and solving them. You start off with a set number sentence, each player gets their 4 cards.
The first player will start by drawing a card. They will take a look at their numbers and come up with a new number sentence.
You can replace one, two or all three cards (sometimes four if you have a double digit answer). Your goal? To get rid of all the cards in your hand. The trick? You cannot place the same number on top of itself! You can't make a new number sentence? Grab another card until you can!
This card game is one of those games where you need to not overthink the instructions. Moe Man and I did this. We recommend just playing as you read. Once you understand the rules, you will not want to stop playing! I watch Moe Man go from having problems with his multiplying to winning the game!
What Did We Think
Once we got the hang of the game, we really enjoyed it! We loved how fun it was and I loved watching Moe Man have fun with math! Having this game gave us the time to do something alone. We were able to use this a couple of times each week, and I watched BOTH of our skills grow from playing this. The instructions were a bit confusing when I was just reading them, but I found that actually laying the cards down as I read the instructions made this easier to understand.
If you have a child who has a hard time with practicing their facts, this game may be your ticket. Want to check out more reviews? Head on over here with me.