"Mommy, what happens at Easter?" That is the question I have been asked lately. The best way to talk about this is with an easy to understand bible study. Where do you find one of those? You check out Grapevine Studies and their bible study, The Resurrection: Beginner Student (perfect for Ray Ray in 1st grade) and Traceable (for Little Miss in preschool).
The Resurrection study is a great study that takes you and your kids on a journey from the Last Supper all the way up to the Ascension of Jesus Christ with stick figures. Your children will draw the life of Jesus with 11 weekly or 22 daily lessons.
To make the most of this study, you will want to get a student book, plain or traceable depending on the level of your child, and a teacher guide to help you make the most of this study for both you and your child.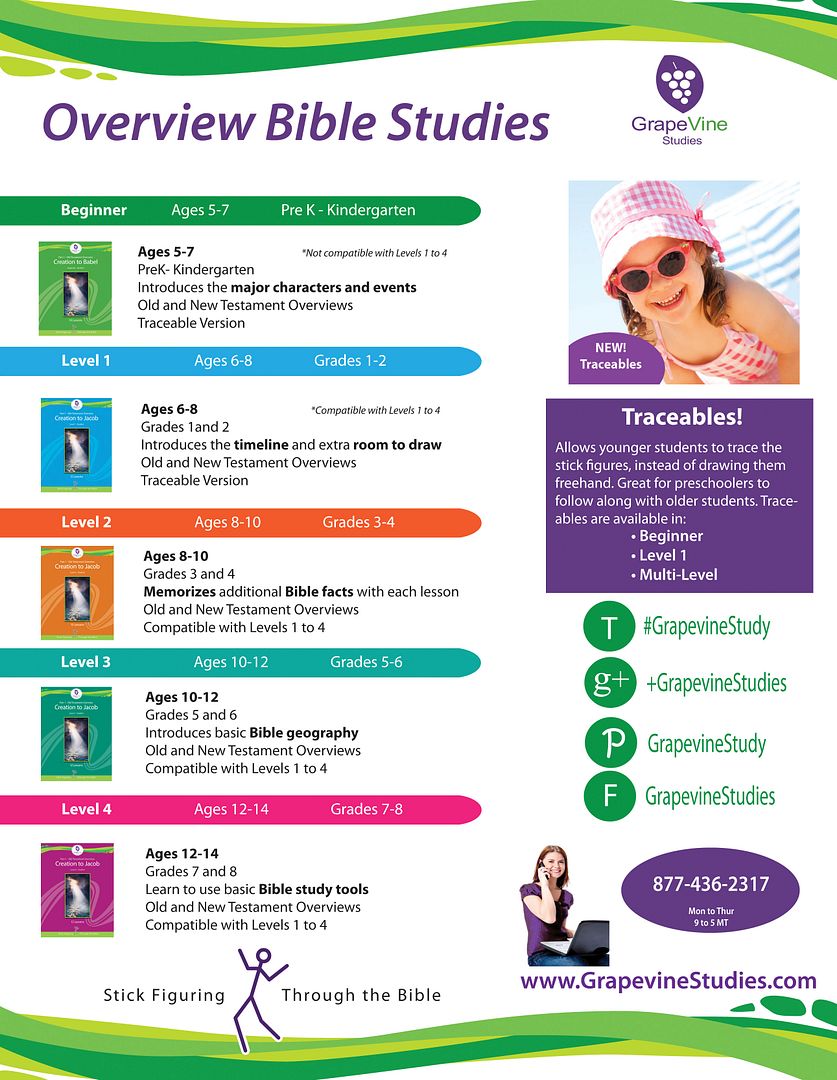 The teacher book is going to have everything you, as the teacher, will need to know for the lessons. You can get this book in print format for $14 or the teacher license eBook for $11.20. I personally love the eBook and being able to save paper by using my computer to tablet to read my parts.
As you go through your teacher book, you will find the Grapevine Studies Mission Statement and teaching method first, followed by their statement of faith. These first three things helped me to understand who they are as a company, and fall in love with them that much more! This is followed up by the teacher goals and the student goals, along with recommended supplies.
When you get to the lesson pages, you will see how to use the lesson, either daily or weekly. You are than suggested to spend some quality time alone reading and studying the lesson before you teach it to your child. This is what I love the most about this program. I love sitting down the night before and using this as my very own bible study. I love to add the little stick figures to my bible as decoration and a visual of what is happening in the words.
When teaching the lesson, it is recommended to use a whiteboard or chalk board, but I have found a simple piece of paper works if you don't have either of the above. The teacher book shows you exactly what to draw when you are reading. We love to read, draw, read again and discuss for our lesson. This way I know the kids know what the picture means and what the words mean. They are able to see both together and make that connection.
Now the student books are simple. You can get the Beginner Student or the Beginner Student Traceable. Both books come in print version for $9.20 or eBooks for $7.60. Both of these work together, so if you have a student in each level, like Ray Ray and Little Miss, you can make this work.
Each lesson page has two pictures, for the total lesson, and a lesson review. We do three days a week of studies. We use page 1 on the first day, page 2 on the second and we spend time on the third day working on the lesson review together. I don't have either child write any of the answers, we just work on finding the answers in our bibles and seeing what we can remember. Of course, with these two, it is a competition to see who can answer first or the most.
We have loved Grapvine Studies since the first time we have ever tried them. This study is no different for us. Once again, all of our needs were met and we enjoyed learning more about the bible and the story of the resurrection. I love watching my kids fall in love with the bible stories, and I have a house full of stick figure pictures again. Now when we read the bible, we have to draw a picture, even if we don't have a study to go with it! I can handle that!
Grapevine Studies has many different studies. Other members of our Review Crew may have used a different study. Head over here to see what everyone did and what they thought about it!

So, have you used Grapevine Studies before? What is your favorite one?
God Bless!!
Amanda
Disclaimer: This post may contain affiliated links which mean that if you purchase from the links provided I may be compensated a small commission, as always thank you for your support!