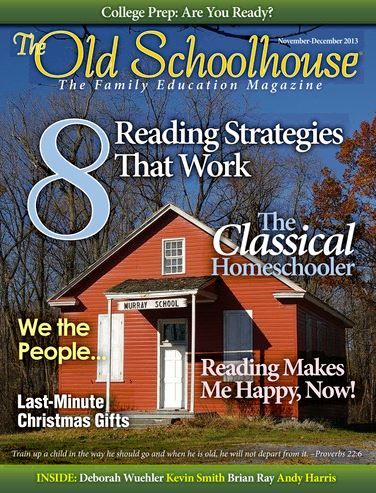 Have you heard of The Old Schoolhouse Magazine? This magazine is a fun digital magazine for all homeschoolers, and any parent or family that loves a little extra "learning" after school.
I just finished reviewing the newest issue of The Old Schoolhouse Magazine (November/December) issue. I love that I am able to have this issue and the back issues all stored right on my tablet. It is so nice to let have to worry about a stack of magazines sitting around the house, but still be able to read between issues.
Guess what? The app for reading this magazine on your tablet or smart-phone…it is FREE! Head over here if you want your own! Don't have a tablet or smart-phone? That is okay, you can head over here and read the magazine for free too!
After a long day of teaching the kids, it was nice to sit down and enjoy a magazine while watching t.v. This latest issue was full of useful information for me, and I have kids who are spread out! I saw articles for all ages, preschoolers all the way up to high school, not to mention articles just for mom!
One thing I was worried about with a magazine on a tablet, was being able to "skip" right to the articles I want to read. There is no problem here! Right from the table of contents you are able to "click" to the article you want to go to! I love to read those that catch my eye first, and than flip through the pages looking at all the other articles. I am so glad that I did this, since I found articles I never would have looked at that really did interest me when I did look at them!
Some of my favorite articles in this issue would be The Ordinary Homeschooler Using the Library to Create Your Own Curriculum and The Littlest Homeschooler with Kendra Fletcher. Not only that, but there were lots of good articles this in this issue that talked about Christmas traditions, gift ideas, and crafts.
And of course, every homeschooler needs to be aware of the current laws, so Legally Speaking with Antony Barone Kolenc is a great way to do that (this is in every issue). This issue's article was about the Common Core State Standards Initiative and President Obama's "Race to the Top". I honestly don't like the legal talk, but Antony writes to the "normal" person and I do understand what he is saying. This is a good way to stay in the loop without feeling too lost!
I was also sucked into the 2013 Excellence in Education Awards. What a fun way to get some ideas about what I can use with the kids! Once again, everything is covered!
Now that I have told you all about what I like about this magazine, I do have to tell you what I wish I could change… I wish I had more time to catch up on all the issues I have missed! I honestly can not find one bad thing to say about the magazine, even the advertisements in here are on cue to what I am interested in and relevant to the magazine itself!
Want to read other reviews like this? Head on over to The Schoolhouse Review Crew and check them out!