How do you take a child who finds every excuse in the books to avoid math, and turn them into a child who loves to sit down and see what else they will be learning? You introduce them to Demme Learning and Math-U-See! How do you save space on your shelf and get an easy to travel with version of this? You check out these new Digital Packs.
Math-U-See is a family owned and operated company with a multisensory approach to mastery based learning. Mastery based learning is focused on making sure your student knows their stuff before they continue on to the next topic. With this, Math-U-See is based on levels, not grades. You will want to make sure to take a placement test to see where your child falls within their levels.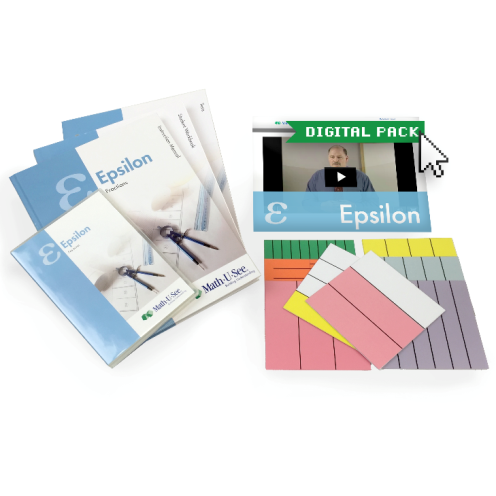 For this review, we used the Epsilon level which focuses on fractions. This is a weak point for Moe Man. We have honestly skipped this in the past because of the misunderstanding between my teaching and his learning. We were sent the whole physical set, which includes a teacher manual, instruction video, workbook, tests and manipulatives. We were also given 12-month access to the digital pack.
The digital pack includes the teacher manual, streaming instruction videos, an MP3 of Skip counting songs and online manipulatives. This pack does not include the student text or tests, so you would need to purchase that separate.
While we received the full physical product, I found that we did not use the physical DVDs as much as we used the streaming of the digital pack. I loved that I didn't have to search for a DVD each lesson to start our learning. It was super simple to just pull up the website on whatever computer or device was available and let Moe Man go!
Each lesson is started by watching an instruction video. This video will teach the new skill for the lesson and show some examples. I would watch this with Moe Man and I would watch this on the computer and pause as the examples were shown. I would make him do the examples and we would finish watching to see if he got them right. This was super nice to be able to be on the computer at the table instead of trying to bring all our supplies to the living room and have Baby Girl attack us at all times!
After your done with the video, you have three practice worksheets, three systematic review worksheets and one enrichment and application worksheet. There is no need to do all of the worksheets, just enough for you to make sure your child in mastering the skills they need to know. I personally loved being able to have Moe Man use all the extra practice that was available!
Now when it comes to grading everything, I have had the pleasure of being able to log onto my computer and correct the pages. I don't have to worry about trying to find my teacher manual or finding the page. This is HUGE for me. I have enough books with book marks in them. I put all the grades in online, so it helps to have my answer key right here on the computer as well. This is my favorite part of the digital pack!
Moe Man loves to use different things to help him figure out his fractions, we even used candy hearts once! But he is really enjoying using the online manipulatives to help him out. He is able to manage the cubes more instead of a mess. He also loves the digital fraction manipulatives. These make it a lot easier for him to add and subtract fractions without getting too confused. These also made for a lot less clean up at the end of each lesson!
We absolutely fell in love with Math-U-See and we love their digital pack. We love the simplicity that this gives to us and the mobility of being able to take our work without the mess or extra supplies. We are even able to take this outside on the warm days and not worry about losing any of our supplies! This is a wonderful feeling, for mom at least!
Check out Demme Learning and Math-U-See on Facebook, Twitter, Instagram, and YouTube!
We were not the only ones who were able to enjoy the convenience of the digital pack from Math-U-See, head on over and check out some of the other reviews!

Have you used Math-U-See before? What do you think about these digital packs, where everything is a finger click, or swipe, away?
God Bless!
Amanda