When you say the word Math to Moe Man you get met with a disappointed, defeated look. He has not had the "aha" moment when it comes to math for him. When I was given the chance to check out The Algebra 1: Volume 1 Tutor on DVD from ScienceandMath.com I was excited to see what we could have here.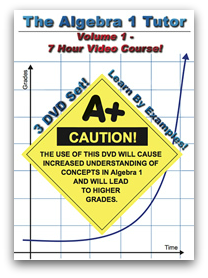 As part of this review, we were given The Algebra 1 Tutor Volume 1 DVD. The physical DVD (which we received) sells for $26.99, or you can get the DVD download for $23.99.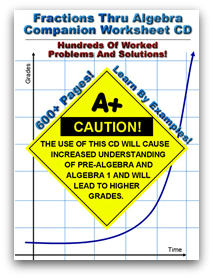 We also received the Fractions Thru Algebra Companion Worksheet PDF download, which sells for $21.99 or the physical CD version sells for $24.99.
As the title of this DVD states, it is a Tutor and not a full math curriculum. You will still need a curriculum, but this is a perfect way to help your child along when you don't know how to explain what they are learning. It is not required to have the companion worksheets, but they do help to reinforce what you are learning while you watch the DVD, and I highly recommend them 🙂 The Algebra 1 Tutor: Volume 1 is for grades 7 and up, unless you have someone younger who is taking an Algebra course.


ScienceandMath.com has been a life saver for us! We took this algebra tutor and used it the best that we could. It is a wonderful way to have someone else "teach" Moe Man when he doesn't want to listen to me. There are 3 disks which have 3-4 "lessons" on each one. From these "lessons" you are able to pick and choose what you need help with. We started at the beginning for a review of the most basic parts of real numbers and the number line.
Even though we started with items that Moe Man already knew, he loved being able to have that review. And to have it on the T.V. and letting him be in control of the remote let him "take control" of his math learning. We took lesson 1 on disk 1 and broke it up into three days. During those three days, Moe Man would watch the video, take notes as they were written on the board and than did the companion worksheet. Doing this quick review gave him a confidence boost that continues to show every day when it comes to math now!
After our quick review, we took the tutor as a tutor. When we learned something new or had a struggling moment, we would jump over to The Algebra Tutor and see another view point on how to learn it. This is perfect for Moe Man. He learns best from the repetition, and being able to watch the same thing as many times as he needs to is wonderful.
There is no schedule for this program. There is no do this on this day and than move onto this on this day. This is a tutor. This is a use it as you need it program, and for us we are using it a lot!
So, do I like the program? YES! Why did I like it? Well, Moe Man actually asked me if he could do math first on the second day. He always puts it off, but to hear that he WANTED to do math, made me smile. The instructor goes slow enough on the DVD that you are able to keep up. He makes it fun for the kids, and I even caught Ray Ray watching the video with Moe Man. It is not a boring lecture of math that kids don't like. It is simple, yet effective! Moe Man enjoyed (and still enjoys) being able to go to this when he needs help. He likes being able to pause the DVD when he needs to, and the fact that he can rewind it makes it even better. I like that I don't have to keep repeating myself, yet he still gets the repetition.
Who do I recommend this program for? I would recommend this to any family who has a child in Algebra! I don't care if you are a homeschool family or not. This program is great to help all children who need that extra boost. It helps those who struggle with math and may not have had their "aha" moment.
I loved this program. Moe Man loved this program. This is something we will continue to use and benefit from. I can't think of anything that needs to be changed with this.
Make sure you check out what these other families have to say about this and other programs available at ScienceandMath.com by clicking on this picture: