Do you have a child who hates to write? Fights you every chance they get? Do you have a child who has a hard time learning to read and write what they are reading? Institute for Excellence in Writing (IEW) has just the program for you, and your child! Teaching Writing: Structure and Style, Student Writing Intensive Level B has been working miracles for Moe Man, and I can't wait to tell you more about it!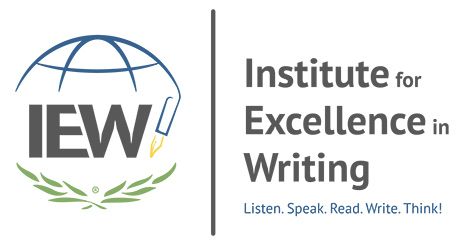 Moe Man and I were given the opportunity to review Teaching Writing: Structure and Style (TWSS) and Student Writing Intensive Level B. We both went into this review with open minds, but opinions all the same. It didn't take long for those to change, for the better!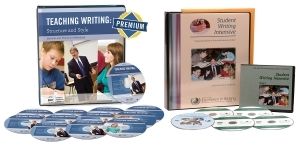 This program is made up of two parts, first of all there is the Teaching Writing: Structure and Style (TWSS) for the parents/teachers. Here is where you will find yourself learning before you try to teach your child in this new way of learning writing.
Included in the TWSS kit there are 12 DVDs that teach you each area of study before your student learns it. There is also the Seminar and Practicum Workbook, and your Premium Subscription information. Your workbook contains everything you need to learn the style of writing you will be teaching. There are spaces to take notes and practice sheets for you to actually do the work along with Andrew Pudewa and the DVDs. Along the sides of the pages, it shows what posters you should have hanging up for your student, and a mini set of those posters comes with your Premium Subscription. Your Premium Subscription includes video streaming of your DVDs, monthly training (from August-May), audio MP3s and several digital PDF downloads.
I had no idea how fun and relatable Andrew Pudewa would be. From the minute the first video started, all the way up to the current unit I am working on, I have felt like I am listening to a friend. Andrew has helped me to understand that Moe Man and I learn writing in different ways. Knowing this, makes me understand that while I would work and take notes one way, Moe Man will most likely choose different words and ways to take his notes.
I enjoyed spending time in the evenings, while kids were in bed, watching my seminar videos and learning about this new to me way of writing. While new to me, this style of writing has been around since at least Benjamin Franklin. I loved learning beforehand, the way that Moe Man would be learning to write. Knowing and learning in the same way as he was going to, made it easier for me to be a supportive teacher for him and his way of learning.
Moe Man worked on using the Student Writing Intensive Level B program. This included 5 DVDs with Andrew as the teacher and a student notebook with the student handouts and a sample schedule for the parents. While this can be used without the TWSS parent's program, I highly recommend both together!
We used this daily, 5 days a week, for Moe Man's writing program. Spending one day watching a video and learning a new topic, than spending at least 4+ days after that working on practicing the skills they were learning. The first day, with the video was always the longest, lasting up to 40 minutes. While this may seem long for watching a learning video, Andrew makes it fun and I never heard a complaint about length from Moe Man. There are plenty of worksheets, and you learn how to find more if needed, for your child to practice the skill learned for the following days. Those days only take up to 15-20 minutes, depending on the speed of your child.
Moe Man fell in love with Andrew from the minute he started talking. When Andrew explained his feelings towards writing, and having those same feelings himself, Moe Man could relate. Having a teacher he could relate to opened his mind to what he was going to learn. If you know Moe Man, having an open mind to writing is a HUGE thing for him!! He told me, that Mr. Pudewa was easy to understand. When you have a subject that is difficult for him to understand, I love hearing that he has a teacher who is easy to understand. Moe Man is also happy to be told he "has to" use a pen. Listening to the teacher and making sure I heard the "fun" things he got to do made this even more enjoyable to Moe Man to use.
I loved this program as a whole! We both enjoyed our sections and knowing we had finally found "the program" for writing made me happy. I have thoroughly enjoyed IEW and their writing lessons for Moe Man. Andrew Pudewa has saved my sanity and our writing lessons! Thank you so much for this!!!
Have you used IEW, any of their awesome programs? Which ones have you used?