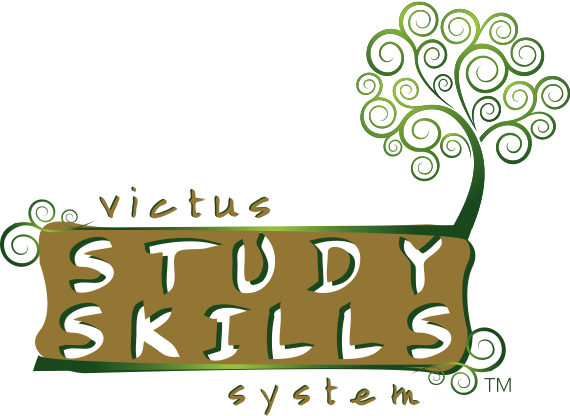 What do you do when your child asks you how to study? When do you learn how to learn? When it comes to teaching your kids study skills you need a good study skills program. That is where Victus Study Skills System comes in with their Student Workbook and Teacher Edition.
Victus Study Skills System is a system of skills that work together to help equip our students for success in their academics and their everyday life. This is not a program of hearing the same old thing over and over again. This study skills system works on things you and your kids may not have heard of before. And this is not just for homeschoolers…this is a good program for anyone with a child between 5th and 12th grades.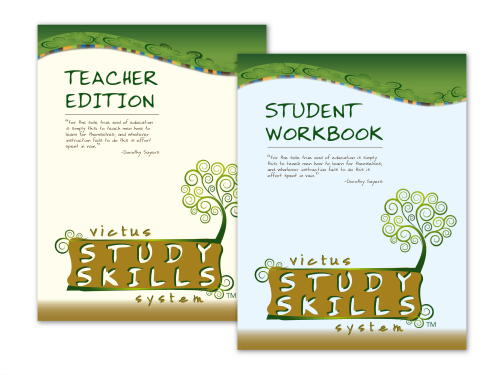 Victus Study Skills System Teacher Edition and Student Workbook both come as spiral bound paper back books. The books, although pape back, are very sturdy and have held up to our daily use for two weeks straight. The covers are beautiful and the writing within them are very easy to understand. These two books are all that you will need to help teach your kids to study. There are no "extras" that you need to buy to make this work for you.
The Teacher Edition is $40 and tells you all that you need to know to teach the study skills. You get to start with a nice introduction to the philosophy of the Victus Study Skills System. After reading about the four concepts and previewing the three foundational cornerstones, you get to the four objectives of this program. Section One is the teacher instructions. Yes, you will need to learn to be able to teach 🙂 You will want to make sure you read this, because as you are told "You are teaching concepts that students will apply to academics and to life." There is a sample 5 day course plan to follow, but we did change ours up a little. Section 2 is the lesson plans. The teacher edition gives you the three P's to each lesson, Purpose, Preparation, and Procedure. A nice "student view" shows you what the kids will be seeing in their book and will also give you the answers. Section 3 is the wonderful Appendix. Please, do not wait to look at this until the last minute like I did. This is a wonderful resource to help reinforce everything you are trying to teach!
The Student Workbook is $20 and gives your student all they need to achieve the study skills they need in life. The student workbook starts out telling the kids the four concepts as well. There are the three foundational cornerstones that we will work through in the student text, "Where am I now?", "Where do I want to be?", and "How do I get there?". Once the kids can answer these questions, they will be able to make progress in the right direction!
Although it is recommended to complete this program within 5 days, we took a little longer with Moe Man. They do say to pay attention to your kids and do what is best for your kids. We did do this and spread this out over two weeks instead of one. And we still use this to this day to help us in our learning skills. We started using this program as recommended, doing up to two lessons a day. But we found out that we wanted to use these new skills before moving on, so we slowed down a bit and did one lesson everyday…sometimes two with a day off inbetween.
Starting off, one of the first things we did was to find out the learning strength of the child. This was so much fun for both me and Moe Man. Where I thought Moe Man was an auditory learning, we found out he was more visual/kinesthetic learner. This in and of itself has helped us out so much! I would have been happy to just stop right there, but we got to learn more!
After finding out where the kids are now…they get to decide where they want to go. This was hard for Moe Man, but we made it through. With Moe Man being adopted, and the story behind that, we have a hard time working and planning for the future. Once I made him understand we are ok and that he can look towards the future of his school and what he wants to do when he "grows up" we were able to make it through this section. Goals are fun for most people…they are even more fun when I am able to read them and see that the goals Moe Man has are the same that I have for him…those ones that I don't voice out loud, but pray about…yeah, he wrote those down on paper and I cried.
Goals in mind, we get to move on to the "How do I get there?" section. Time management, organization, note taking…you learn it all! This section helps the students to actually work for their goals. Working towards goals is not just for school…it is for real life too.
You get to finish it all up with a quick study skills test to see how well your kids actually retained what they were learning.
I learned so much about Moe Man using this program. I could not have been happier! I loved learning about how to help him learn and study better with his ADHD and FASD. This is simple enough to use with him, but also challenging enough to push any kid past their comfort zones to make positive changes in their study skills. When I asked Moe Man for his opinion of this program I was told "I like the fun activities that teach me about learning." I than asked him what he didn't like…expecting something from him…but I was surprised… "Nothing. I kinda like it." Ok, coming from a 13 year old boy, "I kinda like it" is a good thing 🙂 Now for the mommy opinion…I liked it. I liked learning more about Moe Man's learning styles. I loved seeing him explore his learning and finding out how to improve. The only thing I didn't like was the idea of different classrooms, and different teachers. It works awesome for a public school child, but we just had to improvise on those parts. Did it hinder our learning? No way! Does it make me like this any less? No way! I still recommend this for any parent or teacher of a middle to high school student, homeschooled or in the public school.

There are many others who have reviewed this system. They have their own opinions on it also. I recommend you check them out if you are having doubts and see for yourself what we all think about this system!


Victus Study Skills System is on Facebook and Twitter…make sure you stop by and show them some love 🙂